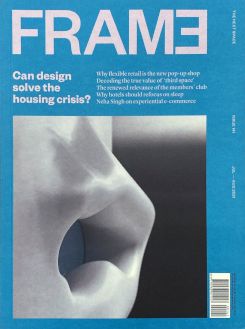 Frame #141 July/aug 2021
 The July/August 2021 issue of Frame explores how design can help to combat the housing crisis. We examine the materials, methods and master plans looking to answer that question.
Reporting From
What do an NFT house and a homeless encampment have in common? Mimi Zeiger explores the correlation from her own home base in Los Angeles. Angus Donald Campbell, in his turn, examines the complexity and contradiction of Johannesburg as a recipe for urban renewal.
Business of Design
How retirees can help revive urban centres. The rise of the 'third space' between home and office. Why hotels should refocus on sleep. The secret to the success of Chinese department stores. How the members' club concept found renewed relevance.
In Practice
Baranowitz & Goldberg on bringing a foreign flavour to Israel. R8 Property on a people-centric approach to sustainability. Linda Morey-Burrows on why the open office is unbeatable. Neha Singh on upping the engagement of e-commerce.
---
---
More from this collection