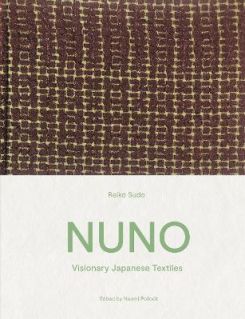 Nuno: Visionary Japanese Textiles
Named with a simple word meaning 'cloth', NUNO is one of Japan's most important textile-design companies. Founded in 1984 by the legendary Junichi Arai and the company's current director, Reiko Sudo, it is recognized as one of the world's most innovative textile producers. Known for weaving together tradition and cutting-edge technology, NUNO designers are inspired by the past, present and future, integrating unexpected elements, such as paper or feathers or aluminium, with industrial methods, such as spatter-plating and chemical etching. All NUNO textiles - more than 2,500 have been created - are produced in Japan and are usually the handiwork of an individual craftsperson. Each bolt of cloth has a story to tell.

Though their textiles appear regularly in books, textile exhibitions and museum collections, a comprehensive NUNO monograph has not existed - until now. Featuring the most outstanding, influential or experimental fabrics, the book is organized into seven chapters, each based on a theme deriving from the onomatopoeic coupling in Japanese that defines a family of fabrics. 
Product details
 

Hardback | 380 pages

 

205 x 270 x 40.64mm | 1,920g

 

14 Dec 2021

 

London, United Kingdom

 

English

 

610 Illustrations, color

 

0500022682

 

9780500022689
---
---
More from this collection