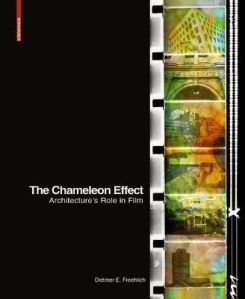 The Chameleon Effect Architecture's Role In Film
Architecture and film have many things in common. Film narratives are embedded in scenes that visually support the story. Sometimes architecture even performs the role of an actor. Conversely, film with its multifaceted changing atmospheres reveals new layers of architecture which, outside the cinema, would remain concealed. In conclusion, film as a mass medium influences the way architecture is perceived, and its image in society. Since the beginning of cinema, architecture has formed a symbiosis with film.

With its systematic analysis, this book offers a scientifically researched history of mutual influence, starting with filmography as a typology of well-known film sets through to the description of the chameleon effect between film and architecture.
 

Hardback | 320 pages

 

230 x 280 x 27.94mm | 1,614g

 

13 Apr 2018

 

Basel, Switzerland

 

English

 

10 Illustrations, black and white; 65 Illustrations, color

 

3035611904

 

9783035611908
---
---
More from this collection