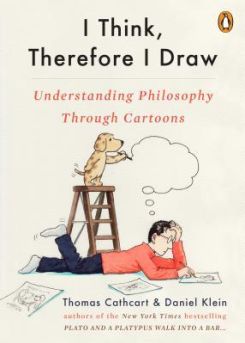 I Think, Therefore I Draw : Understanding Philosophy Through Cartoons
 A hilarious new exploration of philosophy through cartoons from the duo who brought you the New York Times bestselling Plato and a Platypus Walk Into A Bar...

Thomas Cathcart and Daniel Klien have been thinking deep thoughts and writing jokes for decades, and now they are here to help us understand Philosophy through cartoons, and cartoons through Philosophy. Covering topics as diverse as religion, gender, knowledge, morality, and the meaning of life (or the lack thereof), I Think, Therefore I Draw gives a thorough introduction to all of the major debates in philosophy through history and the present. And since they explain with the help of a selection of some of the smartest cartoonists working today, you'll breeze through these weighty topics as you guffaw and slap your knee.
 

Hardback | 320 pages

 

135 x 185 x 25mm | 340g

 

30 Oct 2018

 

Penguin USA

 

United States

 

English

 

B/W ILLUSTRATIONS THROUGHOUT; B/W ILLUSTRATIONS THROUGHOUT

 

0143133020

 

9780143133025
---
---
More from this collection