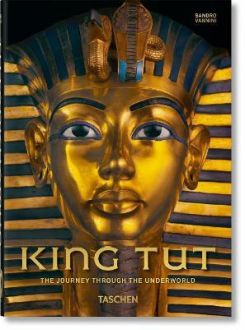 King Tut. The Journey Through The Underworld – 40th Anniversary Edition
 Buried in the 14th century BC but unearthed by Howard Carter in 1922, the objects entombed with Tutankhamun are an invaluable window into a long-extinct belief system. Seen today, they create an intricate picture of how the ancient Egyptian people viewed the perilous journey to paradise, a utopian Egypt that could only be entered following the final judgment.

When acclaimed photographer Sandro Vannini started his work in Egypt in the late '90s, a technological revolution was about to unfold. Emerging technologies enabled him to document murals, tombs, and artifacts in unprecedented detail. Using the time-consuming and strenuous multi-shot technique, Vannini produced complete photographic reproductions that revealed colors in their original tones with vivid intensity. Through these extraordinary images, we discover the objects' quintessential features alongside the sophisticated and cleverly hidden details.
 

Hardback | 512 pages

 

156 x 217 x 43.18mm | 1,474g

 

01 Dec 2020

 

Cologne, Germany

 

English

 

3836584239

 

9783836584234
---
---
More from this collection