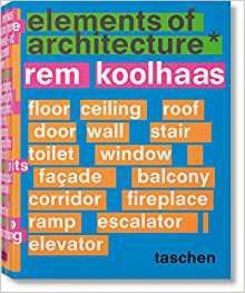 Rem Koolhaas. Elements of Architecture
Elements of Architecture focuses on the fragments of the rich and complex architectural collage. Window, facade, balcony, corridor, fireplace, stair, escalator, elevator: the book seeks to excavate the micro-narratives of building detail. The result is no single history, but rather the web of origins, contaminations, similarities, and differences in architectural evolution, including the influence of technological advances, climatic adaptation, political calculation, economic contexts, regulatory requirements, and new digital opportunities. It's a guide that is long overdue-in Koolhaas's own words, "Never was a book more relevant-at a moment where architecture as we know it is changing beyond recognition."

Derived, updated, and expanded from Koolhaas's exhaustive and much-lauded exhibition at the 2014 Venice Architecture Biennale, this is an essential toolkit to understanding the fundamentals that comprise structure around the globe. Designed by Irma Boom and based on research from the Harvard Graduate School of Design, the 2,600-page monograph contains essays from Rem Koolhaas, Stephan Trueby, Manfredo di Robilant, and Jeffrey Inaba; interviews with Werner Sobek and Tony Fadell (of Nest); and an exclusive photo essay by Wolfgang Tillmans.
 

Hardback | 2528 pages

 

200 x 255 x 99.06mm | 3,540g

 

26 Jan 2020

 

Cologne, Germany

 

English

 

3836556146

 

9783836556149
---
---
More from this collection