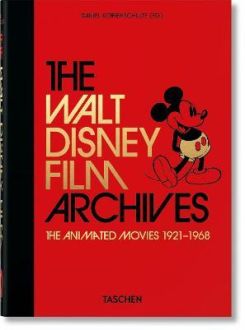 The Walt Disney Film Archives. The Animated Movies 1921–1968. 40th Anniversary Edition
 One of the most creative minds of the 20th century, Walt Disney created a unique and unrivaled imaginative universe. Like scarcely any other classics of cinema, his astonishing collection of animated cartoons revolutionized storytelling on screen and enchant to this day across geographies and generations.

This expansively illustrated publication on Disney animation gathers hundreds of images as well as essays by Disney experts, taking us to the beating heart of the studio's "Golden Age of Animation." We trace Disney's complete animation journey from the silent film era, through his first full-length feature Snow White and the Seven Dwarfs (1937) and Fantasia (1940), right up to his last masterpieces Winnie the Pooh and the Honey Tree (1966) and The Jungle Book (1967).
 

Hardback | 512 pages

 

156 x 217 x 43.18mm | 1,480g

 

03 Mar 2021

 

Cologne, Germany

 

English

 

Anniversary

 

3836580861
---
---
More from this collection