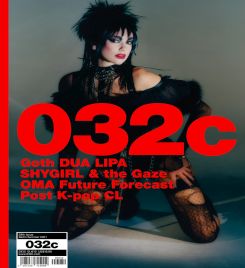 032c #39 Issue #39 — Summer 2021: "The Hospital of the Future"
IT SEEMED LIKE ETERNAL LIFE WAS WITHIN REACH… BUT AT WHAT COST, AND BY WHOSE WORK?

The Office of Metropolitan Architecture's third cover dossier for 032c considers THE HOSPITAL OF THE FUTURE: the world's next biggest design problem. As new attitudes and technologies emerge alongside novel viruses, the research team behind this speculative report, introduced by OMA partner REINIER DE GRAAF, asks: What could the hospital be, tomorrow?



TROIS FEMMES PUISSANTES: Pop princess DUA LIPA spellbinds in High London Goth for Jordan Hemingway's analogue lens. Poet, photographer, songstress, and star SHYGIRL gets comfortable in her own lane, and ERIC JOHNSON meets her there. K-pop star turned solo rap queen CL proves there is Alpha status after the girl group. Historian KARL SCHLÖGEL tracks the scent of totalitarianism, following the perfume of imperial Europe from COCO CHANEL to the Kremlin. A-Cold-Wall* designer SAMUEL ROSS talks W.E.B. Du Bois, streetwear, and the semiotics of working class England. With an international footprint in contemporary art, gallerists MONIKA SPRÜTH and PHILOMENE MAGERS provide a case study in 21st century globalism. WU TSANG, BOYCHILD, JOSH JOHNSON, and ASMA MAROOF represent MOVED BY THE MOTION: a "roving band" that grew out of LA's queer party scene, now settled in a theater in Zürich. Pasolini, Mussolini, VILLA FELTRINELLI: in an interview with the Grand Hotel's MARKUS ODERMATT, SVEN MICHAELSEN explores the fraught and fabulous history of a luxury oasis on Lake Garda. And, at last, DANKO and ANA STEINER return their fashion romance to the pages of 032c, bringing supermodel GEORGIA PALMER back from the depths with them.


---
---
More from this collection