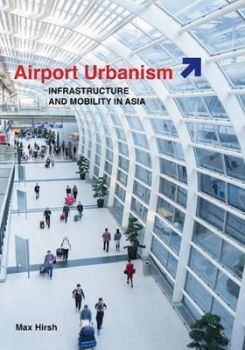 Airport Urbanism: Infrastructure And Mobility In Asia
Thirty years ago, few residents of Asian cities had ever been on a plane, much less outside their home countries. Today, flying, and flying abroad, is commonplace. How has this leap in cross-border mobility affected the design and use of such cities? And how is it accelerating broader socioeconomic and political changes in Asian societies?

In Airport Urbanism, Max Hirsh undertakes an unprecedented study of airport infrastructure in five Asian cities-Bangkok, Hong Kong, Shenzhen, Kuala Lumpur, and Singapore. Through this lens he examines the exponential increase in international air traffic and its implications for the planning and design of the contemporary city. By investigating the low-cost, informal, and transborder transport systems used by new members of the flying public-such as migrant workers, retirees, and Asia's emerging middle class-he uncovers an architecture of incipient global mobility that has been inconspicuously inserted into places not typically associated with the infrastructure of international air travel.
Product details
 

Paperback | 232 pages

 

178 x 254 x 17.78mm | 498.95g

 

15 Mar 2016

 

Minnesota, United States

 

English

 

100

 

0816696101

 

9780816696109
---
---
More from this collection