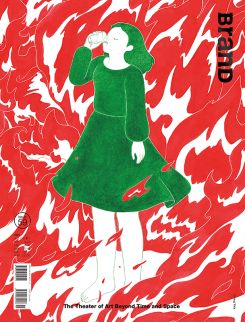 Brand No.59: The Theater Of Art Beyond Time And Space
 Exclusively planned by BranD Magazine, The Theater of Art Beyond Time and Space is opening soon! Art, is always the muse of designers, and a catalyst for design inspiration and creativity.
Every art movement, as well as every avant-garde artist, awakens the restless heart of designers, and guides them to re-imagine the world. In this issue, the BranD team invited four emerging Chinese artists: Yan Cong, who intends to shake the world of contemporary art; Xiang Yata, who creates a boundless universe through daily routine; Wang Mengsha,who overturns the impression of traditional Chinese ink and wash painting; and Lu Shan,who depicts a kaleidoscope of life with her overwhelming artist instinct.
Through the art power, BranD hopes to release readers' imagination about the world and let the free spirit of art run through their soul. For a vivid and unique presentation on the four artists' artworks and ideas, BranD in this issue abandoned the ordinary editorial logic, and boldly planned the first experimental publication of art series, exploring an artistic experience that is one of a kind both in content and design.
---
---
More from this collection