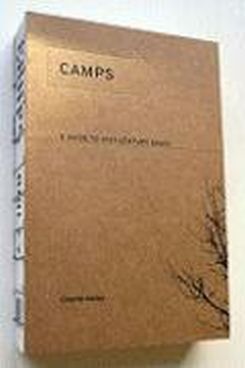 Camps: A Guide To 21st-century Space
 The meaning and function of camps, from Scout Jamborees and RV Clubs to FEMA trailers and GTMO.

What is a camp? In August 2005, television news showed viewers an estimated 20,000 Katrina evacuees camped out in the Superdome, Cindy Sheehan protesting the Iraq War on President Bush's doorstep in Camp Casey, Texas, and Israeli and Palestinian young people at the Seeds of Peace Camp in Maine discussing the evacuation of settlement camps in the Gaza Strip. Meanwhile, off camera, summer campers all over America packed up their gear, preparing to depart Scout camps, computer camps, and sports camps, and millions of recreational vehicles owners were on the road, permanent itinerant campers. In Camps, Charlie Hailey examines the space and idea of camp as a defining dimension of 21st-century life.

 

Paperback | 560 pages

 

137 x 203 x 32mm | 794g

 

30 Apr 2009

 

Mit Press

 

Cambridge, United States

 

English

 

163 b&w illus.; 326 Illustrations, unspecified

 

0262512874

 

9780262512879
---
---
More from this collection