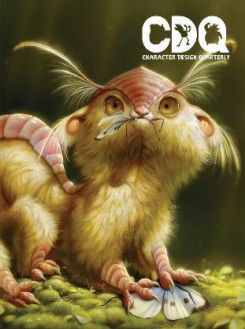 Character Design Quarterly 21
 "Character Design Quarterly (CDQ) is a lively, creative magazine bringing inspiration, expert insights, and leading techniques from professional illustrators, artists, and character art enthusiasts worldwide. Each issue provides detailed tutorials on creating diverse characters, enabling you to explore the processes and decision making that go into creating amazing characters. Learn new ways to develop your own ideas, and discover from the artists what it is like to work for prolific animation studios such as Disney, Warner Bros., and DreamWorks.

Among this issue's highlights are budding professional illustrator Amelia Bothe cover art featuring an exclusive animal character, and we go behind the scenes at London animation studio Blinkink.
Product details
 

Paperback | 104 pages

 

208 x 269 x 10.16mm | 521.63g

 

30 Aug 2022

 

Worcester, United Kingdom

 

English

 

Black & white and color illustrations throughout

 

191284351X

 

9781912843510
---
---
More from this collection