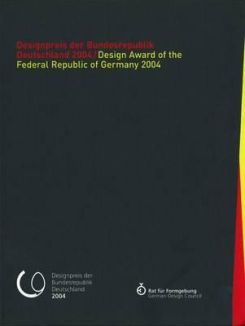 Design Award Of The Federal Republic Of Germany 2004
 The catalogue accompanying Germany's 2004 Design Award.

The Design Award of the Federal Republic of Germany is the nation's highest official design prize and is organised by the German Design Council on behalf of the Federal Ministry for Economics and Employment. This year a total of 904 distinguished products were nominated, from which the jury selected 21 products from various sectors including industry, commerce, design and media, as being of supreme design quality. These were divided into 3 prizes and 18 citations. This catalogue presents the award winners and 100 exemplary products in detail. The volume is introduced with a preface by the Minister for Economy Wolfgang Clement.
 

Hardback | 288 pages

 

215.39 x 270.76 x 20.07mm | 1,280g

 

30 May 2005

 

Birkhauser Verlag AG

 

Basel, Switzerland

 

German

 

Bilingual edition

 

Bilingual

 

176 Illustrations, color

 

376437179X

 

9783764371791
---
---
More from this collection