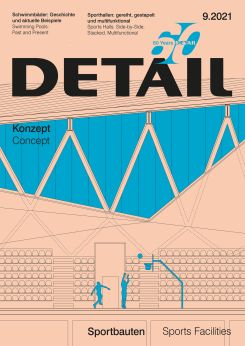 Detail 9.2021:konzept Sportbauten
 September issue we show you other different types of sports buildings. 

For example, the converted industrial hall in Viborg, Denmark, which gives street sports a home, or the Brombach sports center in Lörrach with half-buried, bright rooms. 

The development of the halls and their floor plans with areas that can be subdivided - all of this has to be solved architecturally. Sustainable solutions for the construction and the supporting structure are also decisive. Because large halls need large spans. Swimming pools are no less demanding in terms of planning, and we take them up with successful current examples in our essay.
We hope you enjoy our concept edition on sports buildings!
---
---
More from this collection