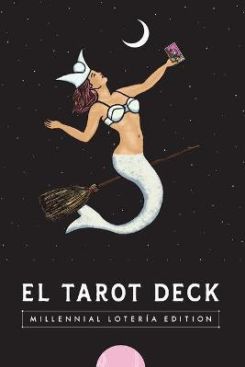 El Tarot Deck
 Embrace your Latinx magic with this Loteria-inspired tarot deck from the creators of Millennial Loteria!

The classic game of Loteria drew a lot of inspiration from the ancient practice of Tarot. The Millennial Loteria Tarot Deck explores the similarities between these two timeless traditions with a modern twist-finally reuniting these long lost primos to help you reconnect with your Latinx magic.

This beginner-friendly deck was designed to be fun and easy to use for anyone who wants a simple way to learn Tarot and how to integrate a practice into their lives. One common misconception is that Tarot is a practice used only to predict the future, but this Millennial Loteria Tarot Deck is specifically designed to help you better understand your present and get in touch with your heritage. The only person in charge of your future is you, so the guidebook accompanying this 78-card tarot deck focuses on self-reflection and inspiration for your goals, all done with a sprinkle of Millennial Loteria humor.
Product details
 

Cards

 

79 x 116 x 58.42mm | 576.06g

 

07 Feb 2022

 

Blue Star Press

 

United States

 

English

 

Millennial Loter a Edition

 

Colour illustrations

 

1950968669

 

9781950968664
---
---
More from this collection