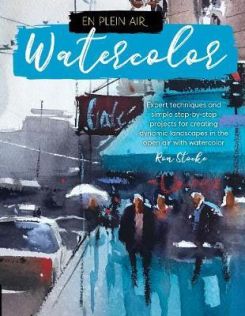 En Plein Air: Watercolor
For artists looking to grow beyond the studio, En Plein Air: Watercolor is the definitive resource for experiencing the rewards and invigoration of watercolor painting on location.

En Plein Air: Watercolor introduces beginning artists and fine-art enthusiasts to the core concepts of painting on location. This guide will have you fully prepared for a day of painting outdoors. Inside, you'll find: A comprehensive list of what to pack to maximize your timeHow to choose a subject and interpret it for a compositionHow to deal with the challenges of shadows and shifting natural lightA review of color theory and color mixingTips and techniques for honing your watercolor skills and developing your artistic voiceThe collection of step-by-step examples will help you gain new artistic skills as you create unique, dynamic artwork outside the studio. Perfect for artists looking to break outside the norm, En Plein Air: Watercolor is your complete guide to experiencing the unique rewards of painting on location with the invigorating medium of watercolor.
Product details
 

Paperback | 128 pages

 

216 x 279 x 10.16mm | 544.31g

 

20 Dec 2018

 

Laguna Hills, CA, United States

 

English

 

300 color photos

 

1633226166

 

9781633226166
---
---
More from this collection