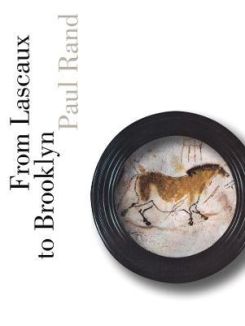 From Lascaux to Brooklyn
"An instructive trip through the mind of one of America's great designers." -Communication Arts (1996)

Hailed upon its publication as "discriminating, erudite, and eclectic," From Lascaux to Brooklyn is now available to readers once again. First published in 1996, the year of Paul Rand's death, the volume embarks on a wonderful journey from the time before graphic design to the author's own studio work and beyond. An excellent companion to Rand's Design, Form, and Chaos, this influential book awakens readers to the lessons of the cave paintings of Lascaux and demonstrates how this learning is later conveyed in artworks ranging from the Tower of Pisa to a Cezanne painting, an African sculpture, or a park in Brooklyn. Topics discussed include the relationship between art and business, the presentation of design concepts to prospective clients, the debate over typographic style, and the aesthetics of combinatorial geometry. This book engages and enlightens anyone interested in the practice or theory of graphic design.
Product details
 

Hardback | 200 pages

 

20 x 26 x 2mm | 907g

 

05 Dec 2017

 

United States

 

English

 

0300230923

 

9780300230925
---
---
More from this collection