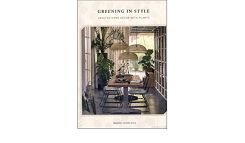 Greening in Style
Interior design projects for residential spaces where plants are part of the basic design, adding personality and life to the decor and counteracting the negative effects of city living.

There is much more to interiors filled with plants than meets the eye. Plant arrangements can be seen as an inexpensive way to decorate a home, but in fact, the use of plants in interior design has benefits that are often overlooked.

Plants add dimension to interiors and make them feel lively. They strengthen the connection with nature and reflect an appreciation of the botanical world. They improve air quality and regulate temperature and humidity levels. Plants also have positive effects on people's moods and health, reducing stress, promoting creativity, productivity and wellbeing.
Product details
 

Hardback

 

250 x 290mm

 

28 Nov 2018

 

Barcelona, Spain

 

300 clr photos and illus

 

8499360963

 

9788499360966
---
---
More from this collection