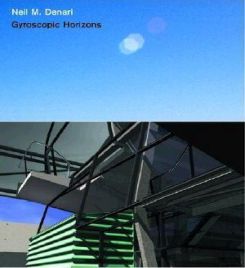 Gyroscopic Horizons : Prototypical Buildings and Other Works
 In this first monograph on his work, architect Neil Denari sets his sights on the gyroscopic horizon, a term based on the altitude device found in most aircraft. Just as a plane's gyroscope creates an artificial horizon line for the pilot, Denari often eliminates the physical earth as datum or locus of experience, turning to cultural, economic, and graphic forces as points of departure for his work.
Denari, the third director of Los Angeles's innovative Southern California Institute of Architecture (SCI-Arc), has made a reputation worldwide for his projects, installations, and writings on the question of technology and contemporary culture; it has been said of Denari's firm that it moves toward the question of place "with the same dynamic flow as a Boeing crossing the International Dateline headed for the arrival lounge at Narita Airport."
Product details
 

Paperback | 224 pages

 

215.39 x 278.38 x 16mm | 1,043.26g

 

01 Sep 1999

 

New York, United States

 

English

 

Illustrations (some col.)

 

187827113X

 

9781878271136
---
---
More from this collection