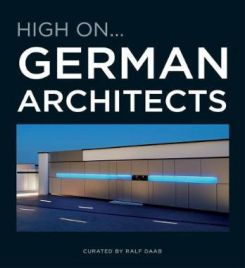 High On... German Architects
 This book presents thirty-two leading German architectural practices and their signature projects. Whether in the areas of housing, commercial, administrative, and public architecture or in the renovation and revitalization of existing buildings, all have one thing in common: the architects are concerned with sustainable design and reject short-lived trends.

This policy manifests itself in minimalistic architecture as well as in the combination of tradition and modernity. The focus is always on a holistic solution that gives expression to an individual attitude to life. To these ends, the respective needs, passions, dreams, and desires of the clients are brought into unity with the specific location and surrounding environment, as well as the climatic and socio-cultural conditions.
Product details
 

Hardback | 336 pages

 

225 x 260 x 30mm | 1,591g

 

25 Mar 2019

 

Barcelona, Spain

 

English, German

 

450 clr photos

 

9788499360553
---
---
More from this collection