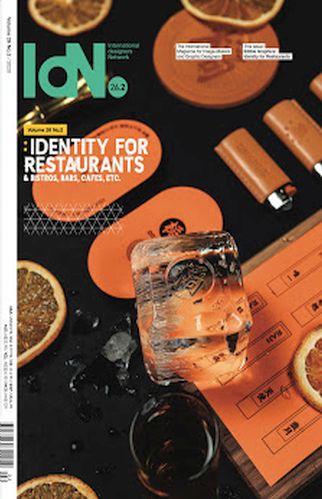 IdN v26n2: Edible Graphics — Identity for Restaurants, Bistros, Bars & Cafes
Edible Identity is the term used for an ID system that is designed to make you want to visit and re-visit a venue that sells F&B. As such, it probably starts with a logo, which in turn spins off printed collateral such as business cards, letter-heads for stationery, menus and so on. So a good name is all-important and it is worth discussing this with the client before accepting the brief. Should it pinpoint the type of food available or the type of customer it wants to attract, the ambience of the place or the quality of its fare, the service or the convenience?
In the following article, we have gathered together 33 creatives with thoroughgoing experience in design identity for food-related projects. They all agree that a good structural plan and meticulous organisation are essential. But the satisfaction that comes from having stamped something of one's own identity on a place that will, hopefully, remain in situ for a relatively long time is its own reward.
---
---
More from this collection