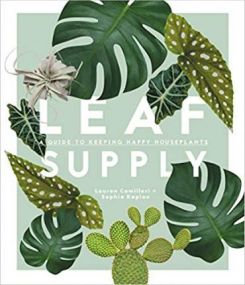 Leaf Supply: A Guide To Keeping Happy House Plants
 Fresh flowers are great - everyone loves receiving them. But inevitably they're already on the way out the door (and into the bin!) by the time they arrive. Plants - living, breathing, life sustaining plants - are where it's at!

Sydney-based authors Lauren Camilleri and Sophia Kaplan really want you to fall in love with indoor gardening and growing as much as they do. Leaf Supply profiles and provides comprehensive (but easy to follow) care instructions for 100 houseplants - including tropical plants, palms, hanging plants, succulents, cacti, and more unusual varieties such as airplants and carnivorous plants - ensuring you learn and grow as your plant grows.

 

Hardback | 256 pages

 

217 x 258 x 31mm | 1,200g

 

17 Apr 2018

 

Australia

 

English

 

120 COLOR PHOTOGRAPHS

 

1925418634

 

9781925418637
---
---
More from this collection