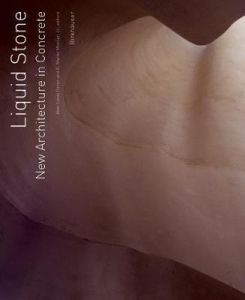 Liquid Stone : New Architecture in Concrete
 Since the large-scale use of concrete prefabricated parts in the 1960s and 1970s, this material has developed new applications in recent years and also become more aesthetically refined. Extremely light and thin varieties of concrete like the newly developed Ductal and virtually transparent concrete cladding allow for the creation of interesting and spectacular designs. Precisely such avant-garde architects as Tod Williams & Billie Tsien, Herzog & de Meuron, Zaha Hadid, and Steven Holl make frequent use of these materials.

Eight articles and essays by noted authors such as Antoine Picon, Adrian Forty, Guy Nordenson, Franz Ulm, and others shed light on specific aspects of this material and its new forms. Scattered throughout the book are also 30 attractive recent buildings, which illustrate and exemplify these developments. Included are projects by Takashi Yamaguchi, Baumschlager & Eberle, Ateliers Jean Nouvel, Foster and Partners, Ingenhoven und Partner, Santiago Calatrava, Hariri & Hariri, Tadao Ando, Antoine Predock and others.
 

Hardback | 248 pages

 

240 x 300 x 25.4mm | 1,619g

 

12 Jun 2006

 

Basel, Switzerland

 

English

 

303 Illustrations, color; 201 Illustrations, black and white

 

3764374837

 

9783764374839
---
---
More from this collection