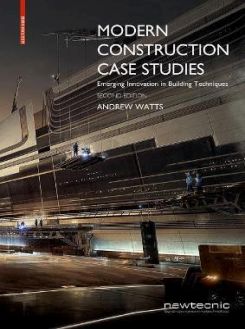 Modern Construction Case Studies : Emerging Innovation in Building Techniques
 Modern Construction Case Studies focuses on the interface between the design of facades, structures and environments of 12 building projects, all developed by Newtecnic.

The Author compares facade technologies, particularly in the way they interface with structure and MEP (mechanical, electrical, plumbing services) in complex projects, to provide insights into the design process for building envelopes. Each envelope technology is described with an emphasis on one of three aspects: geometry, construction and performance.

The analysis links the 12 case studies by comparing their structural and environmental performance. The aim is achieved by analyzing typical bays which are representative of each project and which illustrate the implications of using different building envelope technologies.
Product details
 

Paperback | 224 pages

 

210 x 297 x 15.24mm | 1,084g

 

01 Aug 2019

 

Basel, Switzerland

 

English

 

Revised

 

2nd ed.

 

600 Illustrations, color

 

3035617724

 

9783035617726
---
---
More from this collection