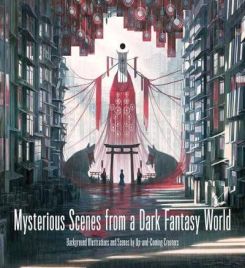 Mysterious Scenes from a Dark Fantasy World: Background Illustrations and Scenes by Up-and-Coming Creators
This 4th book in PIE International's background illustration series is a collection of dark, mysterious and strange illustrations.

Fantastical and magical scenery, desolate landscapes, and weird creatures, this book collects 111 dark fantasy artworks from 30 illustrators, including renowned illustrators such as Posuka Demizu, the illustrator for the bestselling manga series The Promised Neverland, and YoShimizu, the cover illustrator for the 2nd book in the series Beautiful Scenes from a Fantasy World. The cover Illustration was drawn by Monokubu, who, with 217K+ followers on Twitter, is also getting attention in the Japanese illustration industry. This is the perfect reference book not just for fantasy art fans but also for illustrators and designers working in the gaming industry.
Product details
 

Paperback | 160 pages

 

260 x 250 x 20.32mm | 703.07g

 

01 Jun 2021

 

Saitama, Japan

 

English

 

Full Colour

 

475625392X

 

9784756253927
---
---
More from this collection