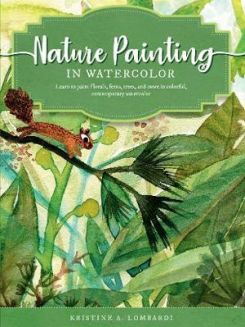 Nature Painting In Watercolor
 Find inspiration in the great outdoors and create simple, expressive watercolor paintings of the plants and animals that live there.

In Nature Painting in Watercolor, beginning and aspiring artists can learn to paint their favorite ferns, leaves, trees, florals, as well as animals, in a contemporary style using the popular watercolor medium. Start by learning about the tools and materials needed to paint in watercolor; then dive into a thorough and fun painting techniques section, which covers washes, glazes, how to add detail in watercolor, and much more. If you'd like to spend more time outside (who doesn't?), check out the section on finding inspiration outside for tips on viewing and gathering natural painting subjects, such as trees, grasses, flowers, and many other plants.

Product details
 

Paperback | 128 pages

 

222 x 296 x 10.16mm | 566.99g

 

04 May 2021

 

Laguna Hills, CA, United States

 

English

 

1184 color images

 

163322886X

 

9781633228863
---
---
More from this collection