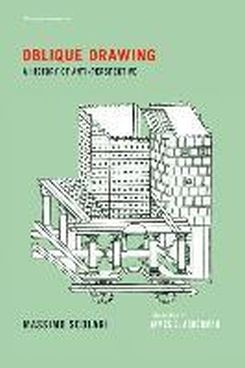 Oblique Drawing: A History Of Anti-perspective (writing Architecture)
 A challenge to the hegemony of perspective: investigations into other forms of representation used by different cultures over the last two thousand years.

For more than half a century, Erwin Panofsky's Perspective as Symbolic Form has dominated studies of visual representation. Despite the hegemony of central projection, or perspective, other equally important methods of representation have much to tell us. Parallel projection can be found on classical Greek vases, in Pompeiian frescoes, in Byzantine mosaics; it returned in works of the historical avant-garde, and remains the dominant form of representation in China. In Oblique Drawing, Massimo Scolari investigates "anti-perspective" visual representation over two thousand years, finding in the course of his investigation that visual and conceptual representations are manifestations of the ideological and philosophical orientations of different cultures. Images prove to be not just a form of art but a form of thought, a projection of a way of life.
 

Paperback | 408 pages

 

152 x 229 x 21mm | 725.75g

 

17 Jul 2015

 

MIT Press

 

Cambridge, United States

 

English

 

Translation

 

340 b&w illus.; 680 Illustrations, unspecified

 

0262527618

 

9780262527613
---
---
More from this collection