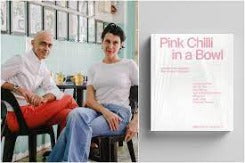 Pink Chilli In A Bowl
 "The beginnings of Pink Chilli in a Bowl can be traced back to an instinctive need to make a home out of a new place I'm living in… understanding how and what a city consumes regularly is a way to experience heritage, culture and the current zeitgeist." – Isabelle Der Hagopian

Streets are a crucial city element that embodies a large part of public life and the interim nature of a city. Inspired by people who cook for us and feed us at hawker centres, coffee shops and family-run eateries, enriched by the work of photographers, writers, and designers, Pink Chilli in a Bowl narrates the interconnected stories of eateries, confectioneries, and landmarks, presenting endangered dishes and diverse architectures.

A first look into the book, the authors Manuel and Isabelle Der Hagopian will present a fresh appreciation of urban space in Singapore as a set of constellations built around food establishments. They will be joined in conversation by the contributors Stephanie Peh (main contributing writer), Sarah Mineko Ichioka (essay writer) and Randy Yeo (book designer).
---
---
More from this collection