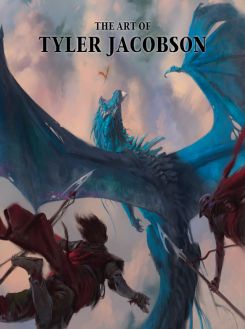 The Art Of Tyler Jacobson
 Explore the world of Tyler Jacobson and find yourself lost in a fascinating culmination of cinematic moments frozen in time.

The Art of Tyler Jacobson invites you to explore every aspect of this quintessential artist's career. This treasure trove covers everything from works created during Tyler's youth, to thesis work made during his college years and continues into every aspect of his professional life. Examples shown include paintings done for books, advertising and editorial purposes, and most notably for the gaming industry. Included are finished works done in digital and traditional methods while also revealing rare sketches and concept art. In addition, Tyler offers exclusive insight as he shares background stories to key pieces found in these pages.

Immerse yourself in Tyler's world, where you can find cinematic moments frozen in time. He builds new worlds with the help of his science background and interest in how things work combined with his passion for fantasy. Tyler has a highly sought out ability to design and create everything from new cultures, environments, weapons and tapestry to clothes and more. He is also well known for his mood plates, as he establishes the overall feeling and tone of the world being built.

Tyler loved playing Dungeons & Dragons when he was younger, which sparked his initial interests and career toward being an artist. With this book, Tyler hopes to share his thought processes and his love of storytelling.
Product details
 

Hardback | 160 pages

 

292 x 305 x 20.32mm | 1,678.29g

 

31 Aug 2022

 

Santa Cruz, United States

 

English

 

1640410546

 

9781640410541
---
---
More from this collection