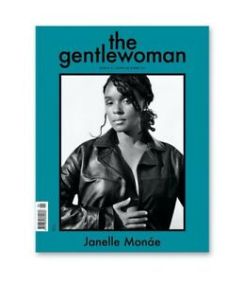 The Gentlewoman, Issue 22 – A/W 2020
In this issue: 
The cosmic pop star-actor-entrepreneur transports us to her glittering galaxy in a cover profile by Horacio Silva and portraits by Clara Balzary for issue Nº22
Janelle Monáe has carved out an extraordinary niche with her skills as a singer, entrepreneur, actor and activist – dubbed an "incandescent talent" by no less than Michelle Obama. At 34, having cast off the constraints of her early extraterrestrial persona, her universe has expanded, resulting in music that's more danceable and screen performances that feel intimate and real. Janelle grew up in Kansas City but found her people in Atlanta, from where her company, the Wondaland Arts Society, invites like-minded "free-ass motherfuckers" to join her in creating radical art.
---
---
More from this collection