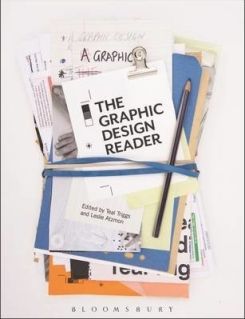 The Graphic Design Reader
The Graphic Design Reader brings together key readings in this ever-changing field to provide an essential resource for students, researchers and practitioners.

Taking as its starting point an exploration of the way in which theory and practice and canons and anti-canons have operated within the discipline, the reader brings together writings by important international design critics, including Wendy Siuyi Wong, Dick Hebdige, April Greiman, and Victor Margolin.

Extracts are structured into clear thematic sections addressing history; education and the profession; type and typography; critical writing and practice; political and social change; changing visual landscapes, and graphic design futures. Each section has a contextual introduction by the editors outlining key ideas and debates, as well as an annotated guide to further reading and a comprehensive bibliography.

Product details
 

Paperback | 1000 pages

 

189 x 246 x 35.56mm | 2,094g

 

04 Apr 2019

 

Bloomsbury Visual Arts

 

London, United Kingdom

 

English

 

Annotated

 

annotated edition

 

360 bw illus

 

1472526473

 

9781472526472
---
---
More from this collection