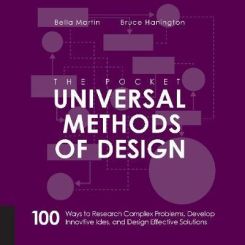 The Pocket Universal Methods of Design: 100 Ways to Research Complex Problems, Develop Innovative Ideas and Design Effective Solutions
The ultimate handbook for designers, students, even educators, The Pocket Universal Methods of Design is armed with 100 principles of design knowledge to keep your team sharp.

This handy, pocket-version of the Universal Methods of Design provides the same thorough and critical presentation of 100 research methods, synthesis/analysis techniques, and research deliverables for human centered design. And now it's delivered in a concise, accessible format that fits in any bag or purse!

Product details
 

Paperback | 208 pages

 

127 x 127 x 17.78mm | 249.48g

 

23 Nov 2017

 

Rockport, United States

 

English

 

150 Color Photos

 

1631593749

 

9781631593741
---
---
More from this collection