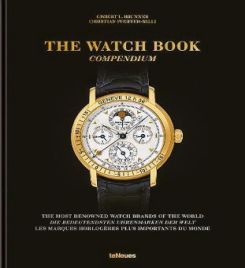 The Watch Book: Compendium
 The Watch Book I and II in one volume: Expansive knowledge from renowned watch expert and historian Gisbert L. Brunner alongside almost 1,000 high-quality colour photographs brings together the latest innovations and most important names in top-end timekeeping under one roof.

Few objects combine function, elegance, and status as well as a wristwatch. A blend of precise mechanics, craftsmanship, fine materials, and innovation distinguishes the truly superlative examples. With so-called smart watches playing a larger role, the world of watches is in transition. However, classic timepieces with mechanical movement will not disappear from people's wrists, because the ticking of a mechanical watch has been and will continue to be the heartbeat of human culture.

Product details
 

Hardback | 504 pages

 

223 x 287 x 45.72mm | 2,585.48g

 

14 Mar 2022

 

teNeues Media GmbH & Co. KG

 

Kempen, Germany

 

English, French

 

Multilingual edition

 

Multilingual

 

880 colour, 120 b&w

 

3961711852

 

9783961711857
---
---
More from this collection