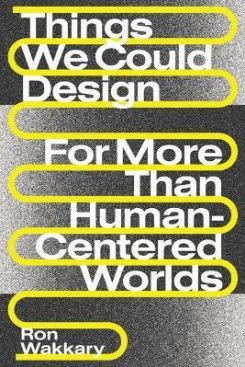 Things We Could Design : For More Than Human-Centered Worlds
 How posthumanist design enables a world in which humans share center stage with nonhumans, with whom we are entangled.

Over the past forty years, designers have privileged human values such that human-centered design is seen as progressive. Yet because all that is not human has been depleted, made extinct, or put to human use, today's design contributes to the existential threat of climate change and the ongoing extinctions of other species. In Things We Could Design, Ron Wakkary argues that human-centered design is not the answer to our problems but is itself part of the problem. Drawing on philosophy, design theory, and numerous design works, he shows the way to a relational and expansive design based on humility and cohabitation.

Product details
 

Paperback | 320 pages

 

152 x 229 x 20.32mm | 539.77g

 

24 Aug 2021

 

Mit Press

 

United States

 

English

 

51 black and white illustrations

 

0262542994

 

9780262542999
---
---
More from this collection