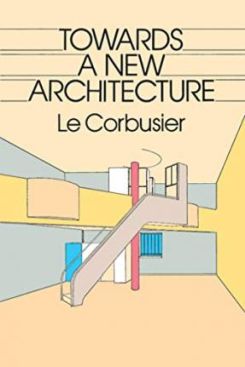 Towards a New Architecture by Le Corbusier
For the Swiss-born architect and city planner Le Corbusier (Charles-Édouard Jeanneret, 1887-1965), architecture constituted a noble art, an exalted calling in which the architect combined plastic invention, intellectual speculation, and higher mathematics to go beyond mere utilitarian needs, beyond style, to achieve a pure creation of the spirit which established emotional relationships by means of raw materials.

The first major exposition of his ideas appeared in Vers une Architecture (1923), a compilation of articles originally written by Le Corbusier for his own avant-garde magazine, L'Esprit Nouveau. The present volume is an unabridged English translation of the 13th French edition of that historic manifesto, in which Le Corbusier expounded his technical and aesthetic theories, views on industry, economics, relation of form to function, the mass-production spirit, and much else. A principal prophet of the modern movement in architecture, and a near-legendary figure of the International School, he designed some of the twentieth century's most memorable buildings: Chapel at Ronchamp; Swiss dormitory at the Cité Universitaire, Paris; Unité d'Habitation, Marseilles; and many more.
Product details
 

Paperback | 289 pages

 

159 x 229 x 15.49mm | 408g

 

01 Feb 1985

 

New York, United States

 

English

 

Illustrations, unspecified

 

0486250237

 

9780486250236
---
---
More from this collection