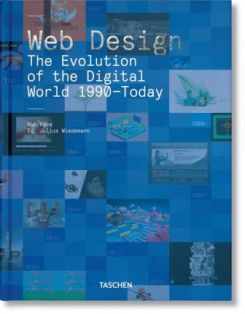 Web Design. The Evolution of the Digital World 1990–Today
The last three decades have marked an era of technological upheaval as frenetic and groundbreaking as there ever has been. From early desktop computers and mobile phones to virtual reality: the web is now virtually inseparable from all facets of human interaction and daily life. But it wasn't always funny cat videos and sleek interfaces.

This collection is a visual journey through time, gathering the very earliest examples of what we today take for granted: the first website to use surround sound, the first drag-and-drop navigation, the first page-turn effect, the first website to use seamless video integration, the first viral site, the first parallax website, the first 'upload-your-face' website, the first site to incorporate a mobile phone, the first ever YouTube-like "website", and many more.

It gathers more than 200 websites, and each comes with quotes and insights from the creators themselves-an invaluable peek into the minds of pioneers who paved the pixelized way for many to follow, including Jonathan Gay (Flash), Gabo Mendoza (Gabocorp), Yugo Nakamura (Yugop), Peter Van Den Wyngaert (NRG.BE), Joshua Davis (Praystation), and Eric Jordan (2Advanced).

 

Hardback | 640 pages

 

196 x 255 x 30.48mm | 1,636g

 

07 Dec 2019

 

Cologne, Germany

 

English, French, German

 

Multilingual edition

 

Multilingual

 

3836572672

 

9783836572675
---
---
More from this collection