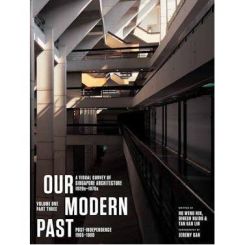 Our Modern Past: A Visual Survey Of Singapore Architecture 1920S-1970S
Our Modern Past - A Visual Survey of Singapore Architecture (1920s-1970s) is a compendium of 3 books which documents notable buildings in Singapore's landscape. 
The buildings, such as People's Park Complex, Collyer Quay, and some of our first generation flats, are the result of innovative or responsive endeavours by the architects in their time, but having them in our midst, we have taken them for granted for too long. 
While neo-classical buildings and shophouses were being recognised and gazetted for conservation, these unique landmarks of our modern times had been neglected.
Recognising them is the first step in the ground to assert that our modern environment is as much a part of our history and not simply the disposable results of economic development.
---
---
More from this collection