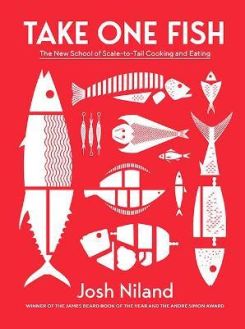 Take One Fish: The New School Of Scale-to-tail Cooking And Eating
Forget everything you thought you knew about fish cookery with Take One Fish. There are no rules when it comes to cooking fish according to James Beard award winning chef Josh Niland, only an endless world of possibilities. With 60 mind-blowing recipes from just 15 global varieties of fish, this cookbook will take you on a gustatory journey - from elaborate to easy, small to large and - always - scale to tail.

Josh's multi award-winning and bestselling book, The Whole Fish Cookbook, revealed the blueprint for a new and unprecedented kind of fish cookery. In this latest book, Josh continues to open our eyes to the potential of fish in the kitchen, starting from the moment we take our fish home and unpack it - yes that's right: bring it home, take it out of the plastic, let it breathe uncovered in your fridge. Then you are ready.
 

Hardback | 272 pages

 

216 x 283 x 26.92mm | 1,480g

 

31 Aug 2021

 

South Yarra, Australia

 

English

 

Full colour photography

 

1743796633

 

9781743796634
---
---
More from this collection