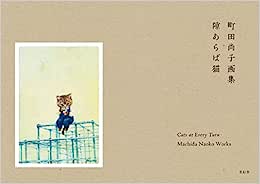 Machida Naoko Art Book Cat
ncludes 8 pages of mini illustrated picture books
A collection of long-awaited illustrations by popular picture book writer Naoko Machida.
Naoko Machita is a popular picture book artist. The pieces are detailed and bold composites that have a depth in the book. In addition to the monstery of Natsuhiko Kyocro, we have released the popular work after one another, and have received high reputation.
This is the "Gap Aabababa Cat" from the Zasai of Tachida. Even in a variety of stories that don't have to be affiliated with cats, such as fairy tales and endo stories, we have introduced cats as a side side role in the market. In recent years we've drawn a number of storybooks that cats appear to surprise those who see them with their delicate brushstrokes. The cats painted in the picture book are meticulously represented from the potty to the weeds, and the sharpness of her observation that lives with the cat, and the eye of compassion.
This book contains storybook painting, painting, painting and original painting jobs from debut to the latest works! 
---
---
More from this collection